Governor Thomas Johnson High School


Class Of 1980
In Memory
Randy Stevens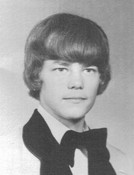 Randy Eugene Stevens, 45, of 11965 Azalea Drive, Hagerstown, died on Thursday, August 9, 2007 at the Washington County Hospital in Hagerstown.
Born February 2, 1962 in Frederick, he was the son of Chester and Helen Shreve Stevens of Frederick.
He graduated from Gov. Thomas Johnson High School in 1980.
He was employed with Westat Incorporated in Rockville.
He served in the U. S. Army. He was a member of the American Legion, Morris Frock Post 42.
He is survived by his wife, Donna Brining Stevens; two daughters, Kristina Stevens and April Stevens, both at home; one sister, Debra Stevens of Frederick; and one brother, Robert Stevens of Frederick.
Funeral services will be held at 11 a.m. Monday, Aug. 13 at the Minnich Funeral Home, 415 East Wilson Blvd., Hagerstown. Rev. James E. Swecker will officiate. Burial will be in Rose Hill Cemetery.
Military honors will be conducted at the cemetery by the American Legion, Morris Frock Post 42.
Family will receive friends at the funeral home from 7 to 9 p.m. on Sunday, Aug. 12.
~ Courtesy Frederick News Post
-------------------------------------
I remember Randy as a cutup, funny guy in Science class. He was an Army veteran. I don't know from what he died of but his obit can be found by searching the Frederick News Post past obits.
Submitted by: Tom Disque