Governor Thomas Johnson High School


Class Of 1980
In Memory
Todd Snoots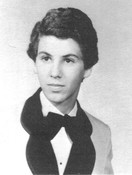 Todd R. Snoots died at the home of his parents on Monday December 2, 1991, due to AIDS. He was 29.
Todd worked in advertising promotions, and real estate management in the Baltimore area. He lived Baltimore while attending Towson State University. He later moved to Columbia MD, and became a community director for Krupp Realty Co.
He was born in Gaithersburg, MD but was reared in Laurel, MD and in Livingston Manor, N.Y. He is survived by his parents, Renice and Louise Snoots of PA; and sister Tina Fuller of Ashburn, VA.
~ Submitted by Tina Fuller (Todd's Sister)